Guide to the American Left
Directory & Bibliography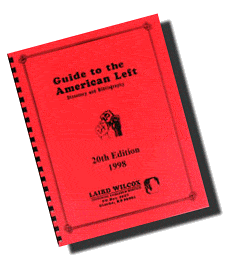 New 21st edition for 1999-2000, revised and updated!
A current and comprehensive directory of over 1,400 organizations, foundations, political parties, publishers, book dealers, newsletters, and journals identified with the American "Left-Wing," including Liberal, Socialist, Radical, Revolutionary, Feminist, Gay, Marxist, Anti-War, Environmental, Ethnic (Minority) Nationalist and other "Left-Wing" values, opinions and beliefs.
Listings include name, address, and abbreviated description, and are coded to indicate special areas of interest. Serials are attributed to the sponsoring organization. The directory is alphabetical with a geographical index. Also contains an annotated bibliography of over 1,000 books on the American "Left-Wing," including biographies, histories, reports, and studies, and a selection of skeptical quotations on ideological belief systems.
Published continuously since 1970.
Laird Wilcox, Editor — ISBN 0-933592-95-7 — ISSN 8756-0208 — $19.95 Postpaid!