Guide to the American Right
Directory & Bibliography
By Laird Wilcox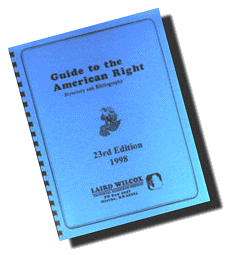 New 24th edition for 1999-2000, revised and updated!
A current and comprehensive directory of over 2,000 organizations, foundations, political parties, publishers, book dealers, newsletters, and journals identified with the American "Right-Wing," including Conservative, Patriotic, Anti-Communist, Libertarian, Pro-Family, Anti-Abortion, Ethnic (White) Nationalist, Gun Rights, Free Market, and other "Right-Wing" values, opinions, and beliefs.
Listings include name, address, and abbreviated description, and are coded to indicate special areas of interest. Serials are attributed to the sponsoring organization. The directory is alphabetical with a geographical index. Also contains an annotated bibliography of over 700 books on the American "Right-Wing," including biographies, histories, reports, studies, and a selection of quotations on ideological belief systems.
Published continuously since 1969.
Laird Wilcox, Editor — ISBN 0-933592-94-9 — ISSN 8756-0216 — $19.95 Postpaid!